Gynecomastia (Male Breast Reduction) Miami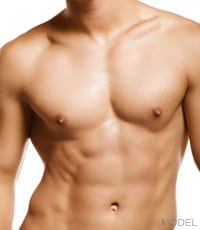 What is Gynecomastia Surgery (Male Breast Reduction)
Dr. Daniel E. Careaga offers gynecomastic surgery, commonly known as male breast reduction at his state-of-the-art Careaga Plastic Surgery Center. Dr. Careaga's full service plastic (cosmetic) services practice is conveniently located in the heart of Miami, Florida, minutes away from the Miami International Airport.
Men, If you are tired of wearing clothes that hide your excess breast tissue, if you are reluctant to take off your shirt at the beach or pool, or if you are embarrassed about how your chest looks, it's time to discuss your options to correct this condition. Dr. Daniel E. Careaga is an expert plastic surgeon that will remove this troublesome excess breast tissue and chest fat.
As more men are considering cosmetic surgery to look and feel their best, and to perhaps help with their careers, it is important to select a surgeon who understands the cosmetic enhancement needs of a male patient. At Careaga Plastic Surgery Center, Dr. Daniel E. Careaga has helped hundreds of men obtain a more youthful and vibrant appearance.
Who is a Candidate for Gynecomastia Surgery (Male Breast Reduction)?
For the majority of the male population, male breast enlargement is not a problem. However, for many men in their adolescence, excess breast tissue does not resolve with age causing them to limit their clothing choices and activities. For many men, their enlarged breasts are a source of discomfort and embarrassment. Men with enlarged or overdeveloped breasts can be categorized as follows:
Adolescent Boys
In studies of adolescent boys with gynecomastia, the glandular tissue begins to grow between the ages of 10 to 13 years and ranges from ½ to 2 centimeters in size. While all men produce testosterone and estrogen during puberty, those adolescents who develop gynecomastia have an imbalance of estrogen and testosterone resulting in excess breast tissue that becomes dense and fibrous with age. Only a small number of boys have this imbalance.
Adult Men
For most adult men, gynecomastia is present because it was not resolved in adolescence. However, for men who have enlarged breasts due to excessive weight gain, this is a different condition. The breast enlargement occurs because of fat deposits (pseudogynecomastia) rather than glandular enlargement. These men typically did not have large breasts as teenagers but developed significant fatty deposits due to obesity. Unlike true cases of gynecomastia where surgery is the treatment option, men with peseudogynecomastia can benefit from liposuction.
Body Builders
Unfortunately in their quest to build rock solid bodies, some men turn to the use of anabolic steroids. The undesirable effects of using steroids such as, rage, acne, facial and neck squaring and potential liver damage are well known. But many people are not aware that steroids convert to estrogen-like compounds in your body. With time, steroid use results in throwing off the body's correct ratio of estrogen to testosterone so body builders not only build muscles but extra glandular breast tissue as well. Even after the discontinuation of the steroids, the breast tissue does not decrease.
What Results Can I Expect from Gynecomastia Surgery (Male Breast Reduction)?
If you are a man suffering with this embarrassing condition, you can resolve the condition with cosmetic surgery and/or liposuction. Dr. Careaga's objective is to reduce the breast tissue and make your chest proportional to the rest of your body.
Gynecomastia Surgery (Male Breast Reduction) Consultation Process with Dr. Daniel E Careaga
Your consultation with Dr. Daniel E. Careaga begins with a discussion of your breast reduction goals and an examination and review of your medical history. Dr. Careaga and his professional staff provide comprehensive information on the procedure so that you are well informed prior to surgery.
Dr. Careaga will also review your health history and conduct a thorough physical examination to advise you of the procedure(s) that are best suited for you.
Dr. Daniel E. Careaga's Gynecomastia Surgery (Male Breast Reduction) Surgical Techniques and Protocols
Surgical Procedure
For men with gynecomastia the breast tissue is typically removed by surgical excision. A surgical procedure is necessary, as the dense fibrous tissue can't be effectively removed by liposuction. Dr. Careaga uses a surgical technique that hides the incision and minimizes any scars. Dr. Daniel E. Careaga expertly removes the fibrous fatty tissue to achieve optimal body shaping results for your chest. After surgery the excess glandular breast tissue will not return unless you use steroids or other drugs, which can cause the breast tissue to enlarge again. Liposuction of areas around the chest, waist and stomach area may be recommended to further sculpt the body. (see below)Typically, general anesthesia is used in an accredited outpatient surgical center. There is no need for an overnight hospital stay.
Liposuction
Liposuction or lipo sculpture is often recommended to remove fatty tissue for men who have excess fat due to significant weight gain or pseudogynecomastia. This procedure isn't recommended for gyecomastia patients as liposuction will not remove fibrous fatty tissue. Liposuction can effectively remove excess fat from the chest area.Procedurally Dr. Careaga inserts very small instruments into minute incisions to remove the excess fat. At the same time, if the patient desires the removal of excess fat from the love handles (waist) and abdomen that can also be done. Your liposuction procedure is performed in an accredited outpatient surgical center using either a local or general anesthesia. Recovery is quick. Men are usually up within a few hours.

Dr. Daniel E. Careaga has advanced training in liposuction and utilizes state-of-the-art liposuction equipment.
Recovery and Aftercare
Surgical Breast Reduction Recovery
Upon discharge from breast reduction, Dr. Careaga's patients are advised to wear a compression garment. The compression garment serves to help the skin adhere to your tissue and to minimize swelling.
If you have a job that doesn't require heavy labor, you can typically return to work within one week. Dr. Careaga will individually evaluate your situation and advise you of a realistic timeline to return to work and normal activities.
Liposuction Breast Reduction Recovery
A compression garment must also be worn with the liposuction procedure. The compression garment assists in achieving optimal results. With liposuction alone, most men return to a non-strenuous job within 2 to 3 days. Caution is advised in using and overstressing the muscles in the chest and arm areas.
Cirugía Plástica Careaga Patients
Photo gallery, captions, case studies
If you would like more information or a consultation, call today to speak with our Patient Care Coordinator.
Dr. Careaga specializes in Breast Augmentation, Tummy Tuck, and Breast Lift procedures.