Should You Consider Surgery After Pregnancy?
Posted October 02, 2019 in Mommy Makeover
3 Min Read
Some women who never thought about plastic surgery start to consider their options after one or more pregnancies have resulted in an altered silhouette.
While it is impossible to guarantee that surgical procedures will restore a woman's body to its pre-pregnancy shape, they can create defined curves, smoother contours, and more youthful breasts.
How Do Your Breasts Change During Pregnancy?
Your breasts begin to swell early in your pregnancy due to increased hormones, heightened blood flow, and milk production, and they maintain their fullness well past your delivery date.
Once you have finished breastfeeding (if you decided or were able to do so), the additional volume starts to diminish. While some women's breasts return to their previous shape and size, other women experience premature ptosis (sagging) and a shrunken breast appearance.
The deflation and sagging occur because the added weight weakens the tissues and ligaments in the breast. The weaker the tissues are, the less likely they are to bounce back.
How Does Your Abdomen Change During Pregnancy?
Your uterus expands substantially during your nine-month pregnancy to prepare for and protect your growing baby.
As this expansion occurs, your abdominal muscles get stretched thinner and thinner. While some women have a toned core that allows the muscle to maintain their elasticity and strength, other women experience the tearing and separation of the abdominal muscles.
The rectus abdominis is divided into two sections, usually separated by a gap about as wide as a finger. If the gap becomes larger than that during or after pregnancy, it is known as diastasis recti.
Diastasis recti is the leading cause of the dreaded stomach pooch that many women experience. Since this condition is due to separated muscles and not excess fat, diet and exercise cannot address it, which can be disheartening. There is no known way to guarantee the prevention of diastasis recti.
How Will Plastic Surgery Address the Physical Changes Brought About By Pregnancy?
Pregnancy has been affecting women's bodies since the dawn of time, and since many of the changes caused by pregnancy are not reversible through diet and exercise, women were forced to simply deal with them. In recent decades, more mothers have turned to cosmetic surgery to experience the best of both worlds: the endless joys of motherhood and the tightened contours of a pre-pregnancy form.
Surgical procedures done to reverse pregnancy-related issues have become known as a Mommy Makeover.
Mommy Makeover surgery combines various techniques that target the areas most affected by pregnancy.
What Will My Mommy Makeover Include?
The Mommy Makeover is hand-tailored to meet each patient's specific needs. This treatment usually involves a breast procedure (breast lift, breast augmentation, or both), a tummy tuck, and liposuction.
Breast lift surgery is beneficial for women who experienced ptosis after breastfeeding but did not lose much in the way of volume. Breast augmentation with implants is performed if a woman suffered volume loss or always desired fuller breasts.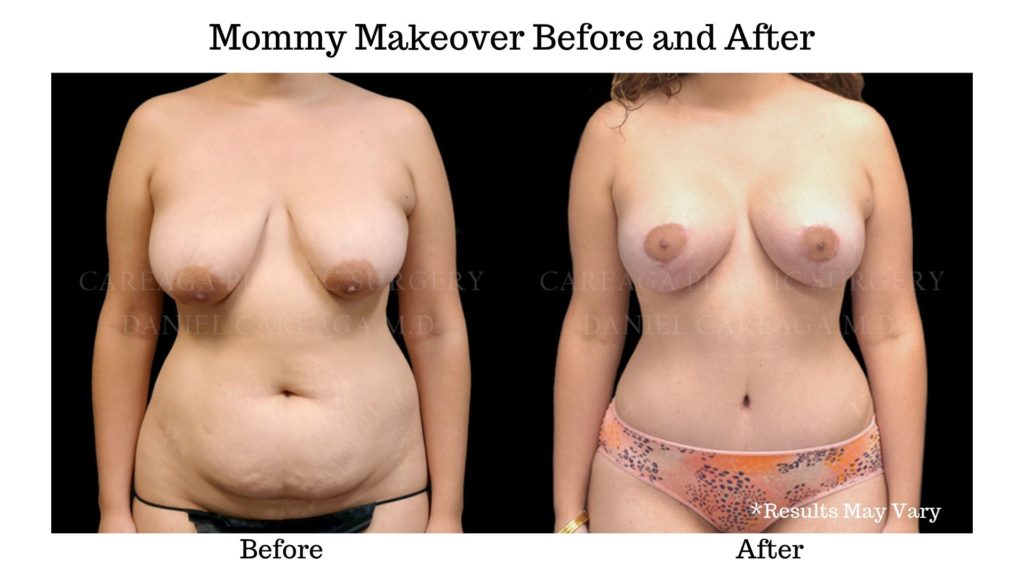 Tummy tuck surgery repairs diastasis recti by tightening the tissues and returning the abdominal muscles to their correct placement. This procedure also removes excess fat from the lower abdomen and trims loose skin on the stomach.
Liposuction trims the areas around the abdomen and breast, such as the hips, waist, thighs, buttocks, back, and arms. As pregnancy affects your hormones, pockets of fat develop in regions where they may not have been an issue before. Liposuction removes these fat deposits.
What Other Procedures Can Be Included?
While most women benefit from a combination of the above procedures, some new mothers still desire more. For women wanting to enhance their feminine curves, a Brazilian Butt Lift may be beneficial. This procedure uses the fat harvested through liposuction to enlarge, sculpt, and lift the buttocks.
Contact Us Today!
If you are looking for a Mommy Makeover near you, contact Dr. Careaga at Careaga Plastic Surgery by calling (305) 574-9262 or by filling out our online contact form. Dr. Careaga is a board-certified plastic surgeon practicing just outside of Miami.