How to Prepare for Your Breast Augmentation
Posted October 23, 2023 in Breast Augmentation
Getting a breast augmentation is something many women do to boost their confidence and self-esteem. However, scheduling your breast augmentation surgery is only the initial step in the process. The best thing you can do for yourself before breast augmentation surgery is to plan well for your recovery.
Below, we offer six steps for pre-surgery preparation to help ensure your breast augmentation surgery and recovery proceed as smoothly as possible.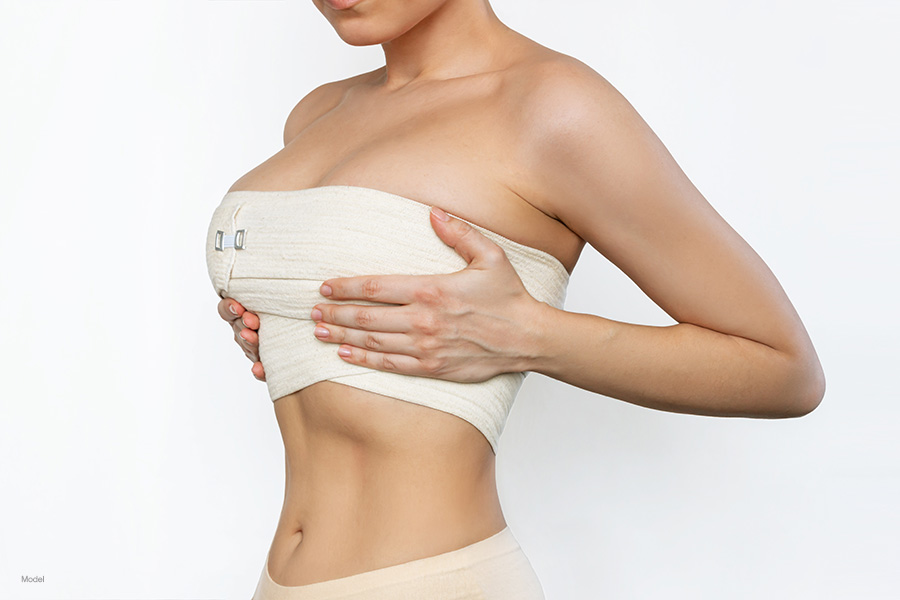 Schedule a Consultation With Your Plastic Surgeon
At your consultation, your surgeon will talk with you about your expected results and answer any questions you may have. You will also review your breast implant type, size, shape, texture, and placement options.
If you're unsure of what shape or size implant to choose, Careaga Plastic Surgery utilizes the state-of-the-art technology of the Sientra Mirror. The Sientra Mirror simulator lets patients see a full body image of themselves after breast augmentation surgery and allows them to make adjustments. This technology helps ensure that your results will be exactly as you envisioned.
Follow Your Surgeon's Pre-Operative Instructions
Your surgeon will want pre-op blood work completed before your surgery to help ensure the safest procedure possible. Get the required blood work done as early as possible so that there is time for your surgeon to receive and review the results prior to your procedure.
Two weeks before your scheduled surgery, you will need to avoid the following:
Smoking
Drinking alcohol
Certain prescription medications (under the appropriate medical supervision)
Over-the-counter pain relievers like ibuprofen and aspirin, as they are blood thinners
Herbal supplements
Your surgeon will also provide you with post-operative instructions. It is essential to follow them to the letter.
Plan Your Return to Work According to Your Surgeon's Instructions
Recovery after breast augmentation surgery typically takes about six weeks, but may vary according to the individual. If you work at a desk job that does not require lifting or extensive movement, you should be able to return to work after the first week. If your job is more physically demanding or requires lifting, let your surgeon know beforehand so they can advise you of the appropriate amount of recovery time needed before you return to work.
Arrange Transportation To and From Your Surgery
Breast augmentation is an outpatient procedure that allows you to return home a few hours after your surgery. However, you cannot drive yourself to a hotel or home to recover because you have been under anesthesia. Ideally, you will have someone to stay with you for the first day or two after your surgery. This allows you to receive assistance as needed, figure out your limitations, and adjust where necessary.
Make Arrangements for Child and Pet Care
Arranging for child and pet care is also vital in preparing for your recovery. You cannot bend over, reach across your body, or raise your arms over your head. You should also not lift anything heavier than five pounds.
Create a Comfortable Recovery Space
Even though breast augmentation is an outpatient procedure, you will want to rest immediately when you return home, not try to set up your recovery space. Some ways to prepare for your breast augmentation recovery include:
Making sure you have all of the post-op garments required by your surgeon purchased and ready to wear.
Filling necessary prescriptions ahead of time and ensuring that you have the necessary post-op care supplies like gauze, medical tape, ice packs, and over-the-counter pain relievers.
Creating a comfortable recovery area in your home with pillows to prop you up according to your surgeon's instructions.
Ensuring that your essentials are within easy reach; this includes a water bottle, medications, phone and charger, books, and the TV remote.
Stocking your fridge and pantry with easy meals and snacks, keeping in mind that you can't lift your arms above your head after surgery.
Learn More About Breast Augmentation in Miami
Choosing to undergo breast augmentation is a big decision and one that can be both exciting and overwhelming. Educating yourself on what to expect and how best to prepare goes a long way toward a problem-free recovery and the gorgeous results you desire.
To learn more or schedule a consultation with the expert breast surgeons at Careaga Plastic Surgery, call 305-574-9262 or fill out our online contact form.