Facelift (Rhytidectomy) Miami
What is a Rhytidectomy (Facelift)?
Dr. Daniel E. Careaga offers rhytidectomy, commonly known as a facelift surgery, at his state-of-the-art Careaga Plastic Surgery Center. Dr. Careaga's full service cosmetic services practice is conveniently located in the heart of Miami, Florida, minutes away from the Miami International Airport.
It is an unavoidable fact of life that as we mature, our lower face and neck skin naturally loosens and skin folds begin to show. Gravity also causes sagging and loose facial and neck skin. These very visible signs of aging may affect the way you feel about yourself and how you are perceived in the workplace and social settings. But under the skillful, artistic hands of Dr. Daniel E. Careaga, you can realize the benefits of a facelift and look years younger!
If you have noticed that your face is showing the effects of aging and damage from the sun and other environmental factors, a facelift can help to restore and rejuvenate your face. Dr. Daniel E. Careaga will discuss your facial rejuvenation options and develop a customized plan for your face and neck.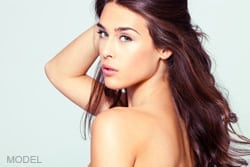 Who is a Candidate for a Rhytidectomy (Facelift)?
A facelift can help eliminate sagging face and neck skin offering you renewed confidence and a more youthful appearance. You may be a facelift candidate if you have:
Loose (lax) facial skin
Sagging or noticeable jowls
Sagging cheeks
Deep nasolabial folds
Lips that turn down, creating a scowling expression
Slack and sagging neck skin
Facelifts aren't just for women. More men are opting for facial enhancement procedures including facelifts to help restore a more balanced and vibrant facial appearance.
Dr. Daniel E. Careaga advises that not every patient showing visible signs of aging requires a facelift. These patients may benefit from a mini-lift, nonsurgical dermal fillers (facial) and BOTOX Cosmetic.
What Results Can I Expect from a Rhytidectomy (Facelift)?
A facelift alone changes the lower sections of your face, but you may also opt to combine it with other surgical procedures, such as a browlift or eyelid surgery to obtain a complete change all at once.
Jowls and wrinkly skin don't always disappear even with the best diets and frequent exercise so facelifts are not just for mature women.
Men and women ranging in age from their mid-forties to sixties or even in their eighties, if they are in good health, can benefit from a facelift. In performing facelift surgery or any type of facial enhancement surgery, the skill and aesthetic eye of the surgeon is critical to achieving natural-looking results. Dr. Careaga is skilled in sculpting a natural looking facelift.
Consultation Process with Dr. Daniel E. Careaga
During your consultation with Dr. Careaga, he will discuss your medical history, conduct a medical examination and review your facial rejuvenation goals. Also, Dr. Careaga will take into consideration the following important personal attributes:
Facial bone structure
Dr. Careaga will closely examine your bone structure to determine if there are any bone problems, such as, in your cheeks and chin. In these cases, patients may benefit from chin/cheek implants and or fat injections to help achieve optimal results.
Skin Type
Dr. Careaga advises that both light and dark-skinned patients are good candidates for a facelift.
Weight
Dr. Careaga will discuss if your weight or future weight loss plan may be an issue.
Dr. Daniel E. Careaga's Surgical Technique and Protocol
A traditional facelift requires skin incisions and repositioning of the fat and skin to lift the skin and remove the folds. The small incisions are generally around the ear and in the scalp. Most often some excess skin needs to be trimmed, and deeper layers of the face and the muscles are also lifted. Sometimes a small incision will be made under the chin as well to remove excess skin and fat in the neck. All of these incisions will heal without any visible scar tissue, because they are concealed in the natural hairline and other skin folds.
There are a couple of variations to a traditional facelift – a limited incision or a neck lift alone. There are also other surgical facial enhancement procedure as well as non-surgical procedures. Your facelift procedures will depend entirely on your aesthetic goals and your desired results. Dr. Daniel E. Careaga will assist you in recommending the best procedure or procedures for you. He is well trained and experienced in all plastic surgery procedures.
For additional information, review our Web pages on nonsurgical facial fillers that will restore lost volume in your face and our information on eyelid surgery, brow lift, chin surgery, necklift, mini-facelift (S-Lift), facial implants, dermal fillers and BOTOX Cosmetic.
Recovery and Aftercare
Dr. Daniel E. Careaga performs a traditional facelift under general anesthesia in an accredited outpatient surgical center. As with any surgery, you must have someone take you home and look after you for a few days. When you leave surgery, you can expect to have some bandages or other coverings to help minimize swelling and protect against infections. Swelling and bruising are normal for about a week, and you should plan to take oral antibiotics while you rest and recover. You might also have a tube for a day or so that helps drain excess fluid. It's easy to get discouraged, but the bruising will subside.
Dr. Careaga will give you detailed post-operation instructions, and we will check in with you daily while you recover.
Careaga Plastic Surgery Center
Photo gallery, captions, case studies
If you would like more information or a consultation, call today to speak with our Patient Care Coordinator.